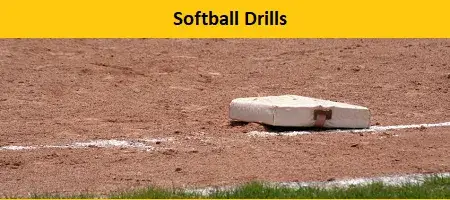 This Softball Mini Game Drill is a great way to have the team work on real game situations while building team work at the same time.
Softball Mini Game Drill
Split your team into 3 teams it works well with 12 players and 2 coaches. One team goes to the outfield, one team plays the infield and the other team is up to bat. One coach pitches and one catches, you can also use the tee if you only have one coach, he/she needs to play catcher, or you can play pitcher and catcher after the ball has been hit.
The pitcher pitches 3 pitches and the batter hits the ball and has to run all the bases, the team who touches the ball first has to field the ball and throw the ball until every player on their team has received it, and the last one has to throw the ball to the catcher before the batter/runner makes it home.  The coach receiving the throw home can stand on home plate and can stretch to catch the ball but cant leave the plate.
If the ball arrives before the runner then the home team has one out–three outs and they go to the outfield and the infield team is up to bat. The pitcher can pitch as soon as a batter is up to the plate with a helmet on so if your team was just at bat you better be running to position yourself in the outfield. Players might not even take their helmets off, but they also learn teamwork, they have each others gloves ready for their teammates on their way to the field.
Make sure that the throws rotate and positions rotate so that everyone has a chance to play in all of the positions and to be the last player with the ball. The batter only gets 3 pitches, if she doesn't hit a fair ball after 3 she is out. And no bunting.