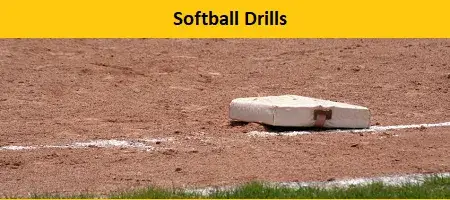 This softball goalie game drill is fun for offensive and defensive skill development.  It's also a great drill to end the practice and can be done inside or outside.    You can include fun and competition at the same time while practicing 2 drills.  You can even make it easier or harder by the number of players that are in the path of the ball.
Fielding and hitting are 2 of the most important drills in the game.  By finding fun and competitive drills that allow the players to get into the mind set that they might experience in a game for offense and defense.  Placing the ball and hitting hit hard is a great skill to have.  In response fielding a ball that the hitter is trying to hit so hard that it gets past you is definitely game like.
Softball Goalie Game Drill
Simply divide the group into 2 teams.  One team is up to bat and one is the goalkeeper.  the hitter has to hit the ball off the tee into the goal and the defense has to stop it from crossing the line.  If it gets through everyone its 2 points instead of one.
f you have a large group then divide the group into 3 and 2 teams are the goalies together.  Neither one of the teams is going to want the hitting team to score.  If you want to work on specific pitches to hit then have a coach pitch to the team rather than use a tee.
You can vary this game in many ways to accommodate your goals for the drill / game.  They will love it at any age and skill level.  You can even move the players closer if you want to have the corners practice their fielding and reaction time.  Be sure that the fielders wear face masks or at least mouth guards for safety as the ball may be hit harder than game like because it is stationary and the batters can wind up and nail it.